Where the F#%@ is Rustlers Valley?
Rustlers Valley was an infamous South African community that sprang up in 1992 with the Annual "Rustlers Valley Mountain Music Festival" later to become the "Rustlers Easter Festival", which drew thousands of people by the year 1998. The festivals were created by following the trend of the Glastenbury festival each year. "Where the f#@* is Rustlers Valley", was the first advertising campaign and it worked really well. Many people came. It was a time of absolute anarchy, "mystical anarchy", a time when many people felt as I did and were questioning the world we live in. It was an expansive time in my life. I connected with many teachers from emerging shamanic cultures. Those who follow traditional and cultural teachings and those who were awakening to the concept of the inner Shaman learning thru experience. I was enthralled by the valley, from my Kombi camper in the campsite on the slopes of the mountain overlooking the spectacular valley, I had a view of Heaven. I was broke, but I had a front garden that money could not buy. Those first few months at Rustlers changed me. Everything that I thought was true was shown to not be and I learned so many things from so many different people about a different way of living. I met a lot of people, who like me had just totally lost faith in the system and wished for change. So I stayed.

Rustlers Valley was the center for an organic shamanic community that stretched throughout South Africa and had links to the rest of the world, especially through the UK, Brasil, and the USA. It was a hub, a starting point for many alternative cultures to gather and share their medicine. Suddenly in a very conservative South Africa, people were appearing that were not very visible before. It was a bit like a smaller version of Woodstock, in that it drew many different people together who were always there, however due to our conservative view in South Africa, never very visible to the public. This was a "Free Zone" and it was advertised that anything goes and the police were only welcome if they attended as paying participants. It was an experimental zone for anyone who wanted to explore alternate realities. It also had the reputation of being a "Sacred Place" where local Sangomas and Traditional Healers came on pilgrimages to communicate with the Ancestors.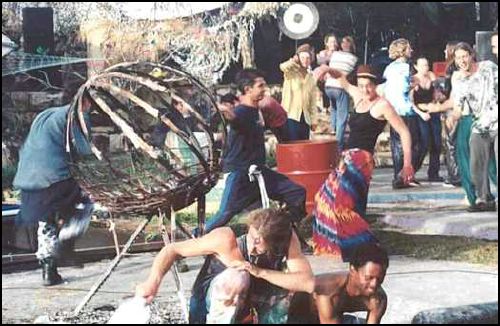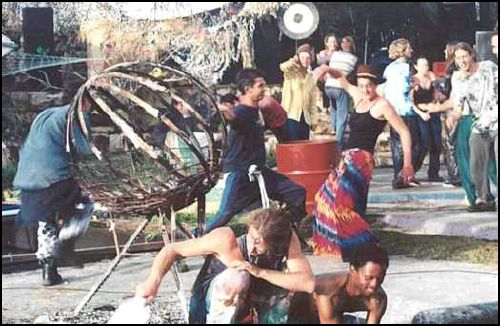 Arriving at Rustlers valley and the start of living in a tipi.
I arrived at Rustlers valley in the Maluti Mountain Foothills on Dec 4th, 1994. I remember the day clearly. I had slept the previous night in my car, in a town called Harrismith and was coming into the valley in the early morning, driving along the deserted dirt road over the pass I could see the features of a unique mountain. I remember thinking it looks like a dragon. The community I was aiming for, lived on the far slope of that strange mountain. The morning was crisp and cold. The sun was glowing over the sandstone mountain peaks and the whole image was spectacular. I remember thinking that this was like entering another universe. The light was surreal and the whips of mist were catching the rays of the rising sun and sending out rainbows of sparkle and colors over the dew-laden mountains. I was traveling in a white VW combi van, which I had rebuilt myself and kitted out as a travel van with a bed, a fridge, and a gas stove. I even had an armchair with which to sit and ponder the many beautiful landscapes, which I had intended to park the van in front of. With me, was my dog, a beautiful, well-trained, tricolor, border-collie who I called "Aquila", and a parrot called Cupid, which my sister had asked me to take care of as it had taken to attacking her. Everything I owned was in the car.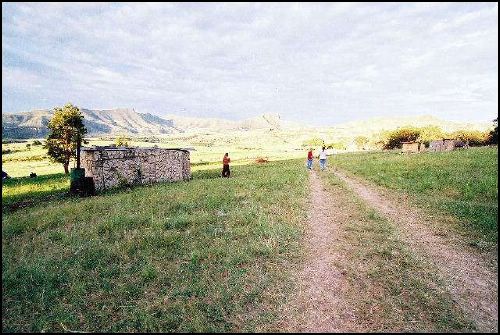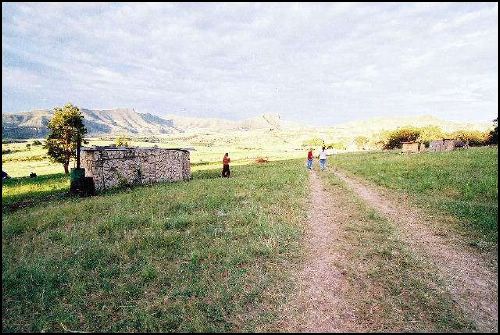 As I rounded the corner toward the Rustlers gates, my vision of a new world suddenly burst, because four South Africa Policemen, in full combat gear, wearing bulletproof vests stepped in front of my car and told me to get out. I had a sticker on the side that said "Hemp will save the planet" and they were pointing at it and jeering at the seeming ridiculous statement that it presented to them. They poked around in my car, hassled me a bit, but were more interested in the talking parrot than trying to bust me. They could see I was not a drug runner. Apparently, unbeknown to me at the time, that's what they believed; that these people at Rustlers valley were running drugs. Anyway, they let me continue and I arrived where I would live for the next 25 years.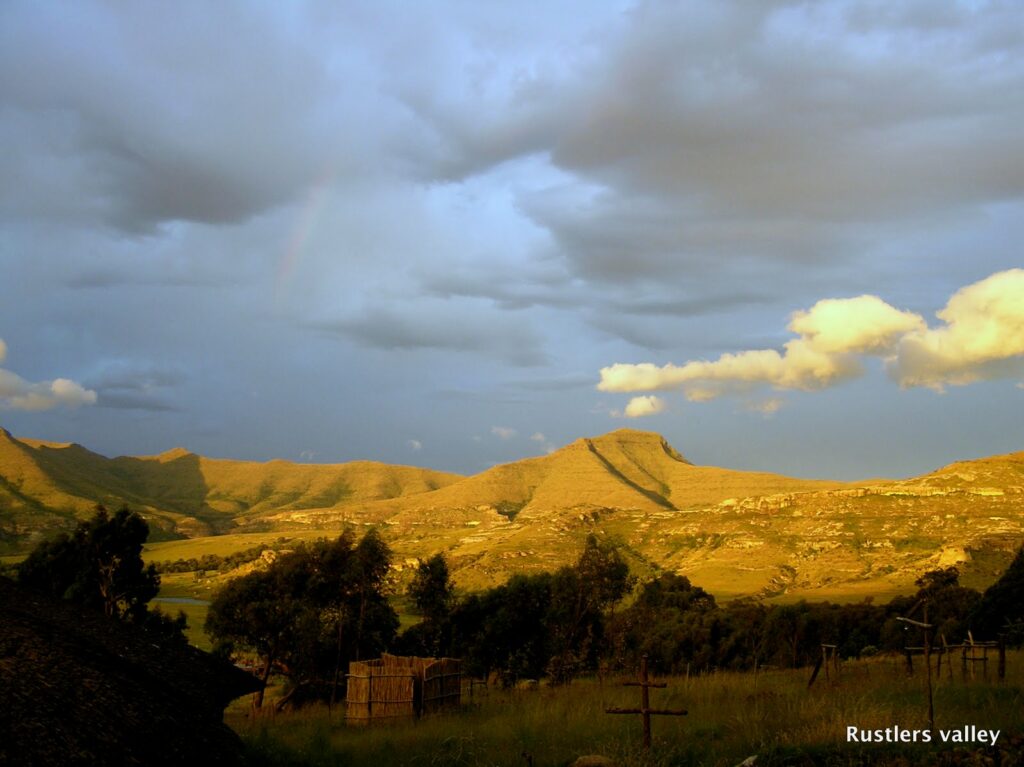 To be able to stay, I had to negotiate with the owner of the farm and we came to an agreement. I would be the fire keeper and had to make sure there were always fires burning at the festivals and gatherings that happened there frequently. I attended the Free Xmas festival and loved the vibes here so much that I did what I could to stay on. I helped in the bar and made fires. Lots of fires. After a while, I became known as the fire keeper. The community was made up of various people from South Africa and abroad. Everyone was here because they wanted to change. They were all unhappy with the world as it was and wanted a new way. They were all searchers. The motto was that "change was the only constant". I proposed to the farm owner that I would like to recreate a Native American Tipi village. I would source the tipis, the poles, and network the dwellers, thus adding to the vibe of the festivals. He accepted and I was invited to stay on the farm to work on the Tipi Project. Over the next 15 years, I would set up tipis wherever we went. Splashy fen festival, Shongweni Festival, Grahamstown festival, and of course three festivals a year at Rustlers Valley. Xmas, Easter, and Spring festivals.
I did not have any money. I had lost everything in the fire in Cape Town, what I had in my van was all that I owned. I was a fashion photographer without a camera, studio, darkroom, or anything that could get me started again. So, I decided to let it go. I made a new contract with the universe. I was free from any debt or any bond of payment, I owned nothing, I didn't even have a bank account. I chose to remain free. I chose not to participate. I knew it was a tough choice, how was I going to make money? How would I take care of a family if I should ever have one? It was a difficult time for me but I wanted out of what I had now perceived as a big lie. I had been lied to by too many and now I wanted truth and I realized that the only way I was going to find that, was to search for it myself. Now my tools were a Didgeridoo which I was learning to play and a Djembe drum which I had made myself.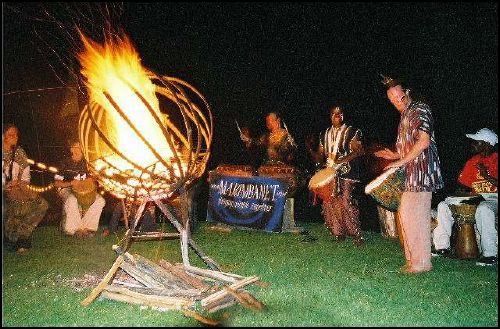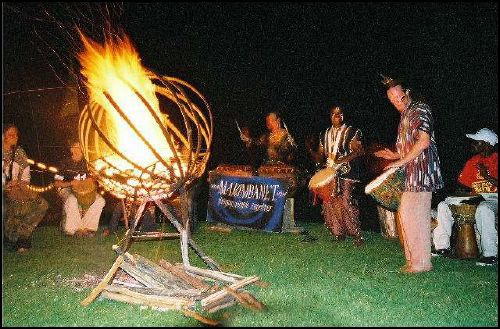 For the next six years, I lived in a Tipi in the mountains without a job or a bank account. To begin with, I built a thirteen-foot tipi out of cheap canvas off-cuts sewn together and moved into it. I had just read a book called "Bury my heart at wounded knee" and it had hit my consciousness like a sledgehammer. I had no idea about the atrocities of North America. I thought it was the land of the free, I had even been there and I loved it, I didn't see any racial tension. I thought I, as a South African, that we were deemed by the world as racists and that Americans were as had been portrayed on my television since 1988 when it was first introduced to South Africa. I know that it was not all like that, but I had never had any interest in wasn't paying attention and I also realized that a lot of what I had read and been brought up with, was censored information. I did not know about the Native American saga because it was not in any of our South African books, At least not in the mainstream, anything deemed racist was censored, so we just didn't get access to any real history. I thought Columbus discovered America. Ha ha ha.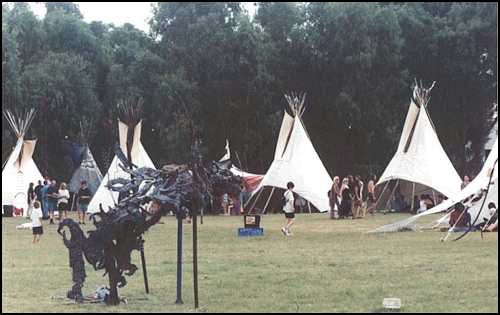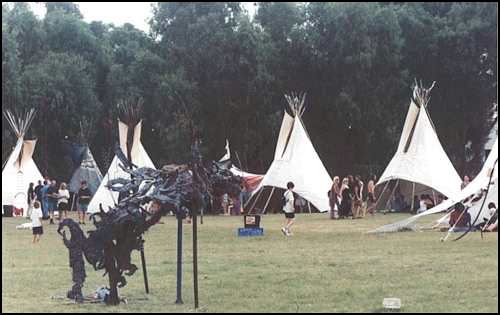 So, I went ahead and put all my energy into creating as many tipis as I could. I built some myself. I got other people who were on the farm at the time to help and got still others to buy ready-made tipis from professional tipi makers and I would put them up at the festivals. By Dec 1996 I had built a tipi circle around a thirty-six-point medicine wheel made with huge standing stones. It was 30 meters in circumference, based on Sun-Bears "Dancing with the wheel". The circle had tipis at the 60-meter circumference. It was beautiful, however, this particular festival turned out to be a bit of an organizational nightmare. There were 4500 people at the festival and a group of about 120 hells-angel bikers arrived and joined in the festival. It also rained for four days and by the fourth day the whole field was one big mush of mud and garbage, Anyway I am telling you this because it was in one of these tipis in the circle around the medicine wheel that I experience my first contact with Ayahuasca.
To me, Rustlers Valley was a place where the veil between the worlds was extremely thin. It is a special place and holds spectacular beauty. The community which was seeded there in the nineties created a magnificent space for Shamanic work. Unfortunately, this is no longer true, the fire in 2007 closed that portal and the farm was sold soon after. It was clear to me, that it was the people who had created this sacred space and that all spaces are sacred, that working with the love of community was what created this space, without the community it was spectacular but no longer the Rustlers Valley we knew. The farm was sold. The new owners changed the name from "Rustlers Valley" to "Eagle Valley". The Magic had ended. I left in 2014.
Next – My introduction to Ayahuasca………
If you enjoyed this story please follow me on telegram here: https://t.me/nixiportal
And if you would like to support this work then please join my Patreon page here: https://www.patreon.com/nixiwaka